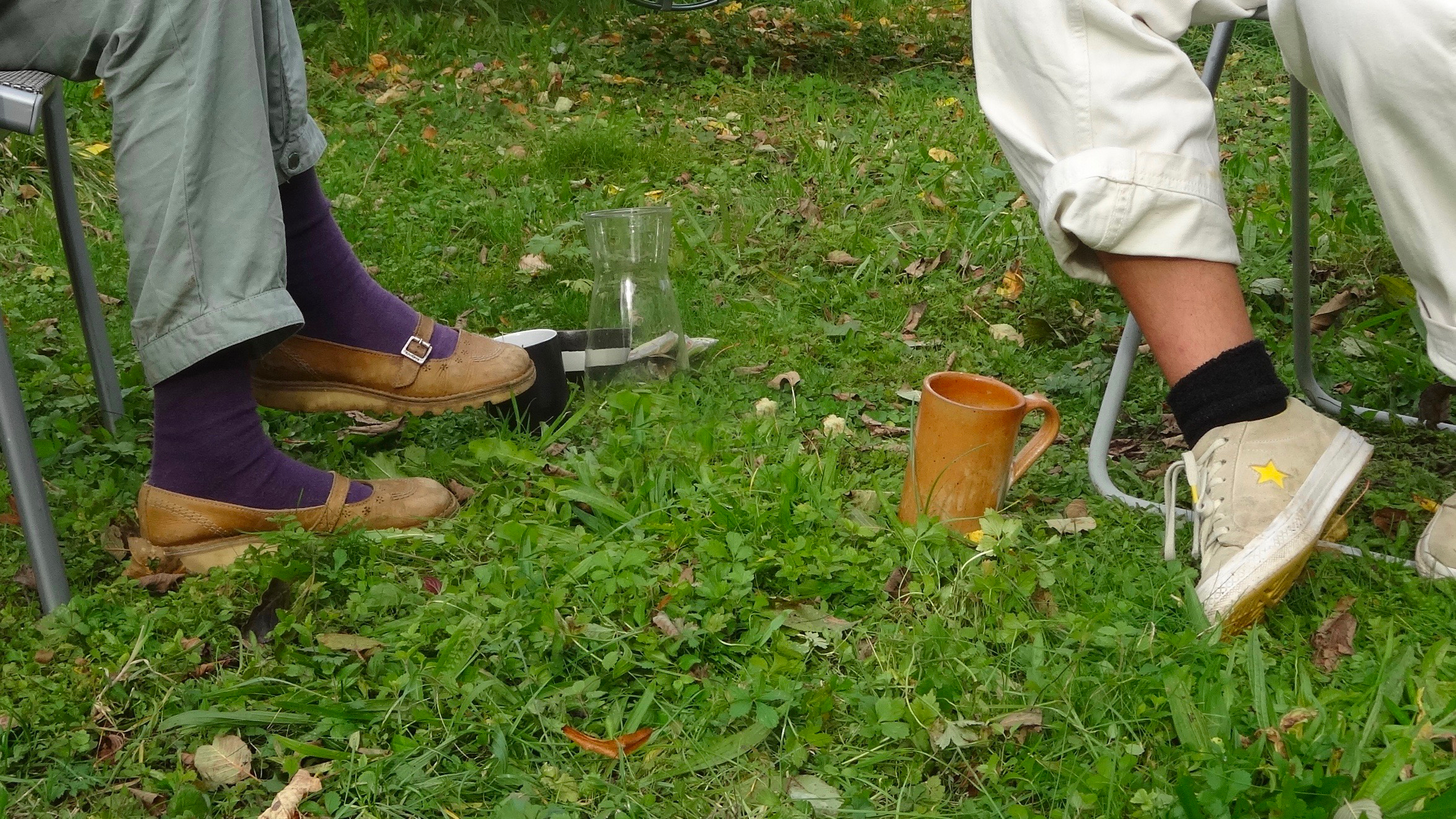 As a visitor to the Maison-Matrice you determine how you want to get involved in the project. For instance, you're welcome to visit for a few days up to several months. You could become a member of the Association and may even find you're up for settling in Crémines permanently…
An ecosystem with resources and niches for many species of cuckoos
All residents share usage and care of all workshop spaces: a large laundry room that modulates into painting/sewing/kitchen/coworking space, a wood/metal workshop with some hardware, various rooms & nooks for writing or dreaming, friendly terraces, a soundlab and a sprawling cable network running through the entire building that enables recording from all corners, a book library, an exceptional board game library, a large multipurpose room with projector and grand piano, an large outdoor shelter, vegetable gardens and a magic boudoir overhanging on the river Raus. It's hard to describe, best you just come around and we give you a full tour 🙂
We also mutualise a few regular bicycles, an e-Bike, a printer, a washing machine… and a bunch of other little things. There's a small electronic soldering station and a free-shop with clothes & shoes. Lending, sharing and exchanging are a bit of a local sport.
Permanent residents who stay for an extended period of time share three apartments on the 1st floor. They constitute by default the committee of the association and meet once a week to monitor the affairs of the association. Visitors are welcome to attend and comment, the more we are the smarter.
Temporary residents may become members of the association, and as they come and go they are very welcome to get involved in the day-to-day affairs of the place according to their desire and possibilities. Temporary residents mostly occupy the Foyer, a renovated apartment on the ground floor of the building that overlooks the Raus River.
The philosophy is that everyone participates and contributes freely to the project according to their means and possibilities. No one is technically charged anything. To sustain itself and develop, the project obviously needs money to cover expenses, but money supporting the project is donated freely by it's members. Of course, money is not enough ! Quality time spent together, work time, skill sharing, 2nd hand equipment, ideas are precious contributions required too. We try to make fire of all wood and wish to share the enjoyment and responsibility of the place between all of us, to make the Matrix House a true by & for and open collective, constantly evolving piece of work.
The Matrix House for visitors
If you want to come spend time at the Matrix House, the Foyer apartment on the ground floor is available. It is rather spacious, with 3 bedrooms that can hold up to 7 people, a dining room, a large lounge/music workshop with a book library and grand piano, and a wood stove to warm things up the cosy way.
Take a look at the calendar on this page to check the availability of the rooms. Depending on the nature of the projects, the house can accommodate several groups of temporary residents simultaneously. Send us a mail with your plans so we can figure things out.
When planning your first residency at the Matrix House
Here's a couple of friendly tips : plan to visit once in person before your actual residency. The "physiology" of an autonomous project such as the Matrix House is a bit singular and slower in tempo in comparison to standardized commercial interactions for example. So getting to know the place and the people a little beforehand to find your way around practically in advance is going to save you time, and worry, especially if you mean to get a lot of work done with a lot of people in your workgroup during your residency.
Also when you plan your residency, consider the minimum time required for whatever personal project you have in mind, and add at least two extra half-days to your schedule to allow you and your crew to connect with and leave la Maison-Matrice in a gentle & courteous manner.
Tel : +41(0)794809140
Email : info@maison-matrice.org
They came to the Matrix House:
Malummí Qataraqt Daniel_Roelli Florestan_Berset_Quintet Linda_Josefowsky Nils_Coblentz Victor_Garcia Fabian_Kraus Gina_Corti Mathilde_Soutter Florestan_Berset_Trio Chromatik Flavio_Virzi Gina_Été Duo_Sonore Clément_Grin David_Cogliati Emma_Schneider Laurent_David Antoine_Humberset Max_Petersen_Trio Kolja_Legde Diana_Martin Debora_Monfregola_6tet David_Robert Crème_Solaire Marion_Ruault Diego_Pinera Xavier_Almeida Isabel_Richiusa Lukas_Koenig Mythen Sébastien_Pittet Nikla_Lukassen Michael_Cina Hugo_Matile Pascal_Stoll Emilio_Vidal Jordi_Pallares Sarah_Chaksad Virgile_Rosselet Phelan_Burgoyne Petter_Eldh Martin_Ruch Christophe_Farine Lisette_Spinnler Eva_Marlinge/Aurélien_Perdreau Stéphane_Félix Daphné_Dejay Malcolm_Braff_Trio Jeremie_Revel Jonas_Albrecht Maroussia_Maurice Noé_Franklé Alicia_Packer Andreas_Hoerni Marius_Cuendet Immigration_Unit Snejana_Prodanova Nneka Rebecca_Solari Charlotte_Lang Sascha_Frischknecht Lara_Lehner Larissa_Rapold Isabel_Richiusa_Trio Chadi_Messmer Eric_Valle_Trio Aurélia_Ikor Michel_Faragalli_4tet François_Lana Jason_Broomfield Charlotte_Viglino Archibald_Simon Nadav_Erlich Max_Petersen Basile_Rosselet Jules_Martinet Esther_Vaucher dianita Selenn Bänz_Oester_Rainmakers Yann_Hunziker/Alice_Grandjean Alessio_Cazzetta Emilia_Catalfamo Nikola_Jan_Gross Lola_Bonanno Moictani Denim_Szram Shijin James_McClure Martin_Theurillat_5tet Aurélie_Emery Desdëa Galsh Vito_Cadonau Mélusine_Chappuis Tenzin_Ngingthatshang Noah_Weber Nacho+Lucien Oestetik Azur Alvin_Schwaar/Laura_Chihaia Laura_Robles Yves_Marcotte Alon_Schmidhauser Phillip_Klawitter Margaux_Huber Robinson_Montmollin Antoine_Humberset Sphere_Project Tenzin_Airbow Emilio_Vidal_Trio Marius_Rivier Nneka_Okebugwu Jonathan_Salvi Oscar_Latorre Marc_Chollet Zoë_Gordon Tom_Gyger Nathan_Vandenbulcke Eric_Valle Fata_Morgana Cédric_Spinnler Debora_Monfregola Samuel_Dühsler Giovanni_Vicari Lukas_Reinert Esteban_Mercier Claire_Huguenin UFO Max_Petersen Andrina_Däppen Jeremie_Kruttli Camille_Piller Baschi Zacharie_Canut