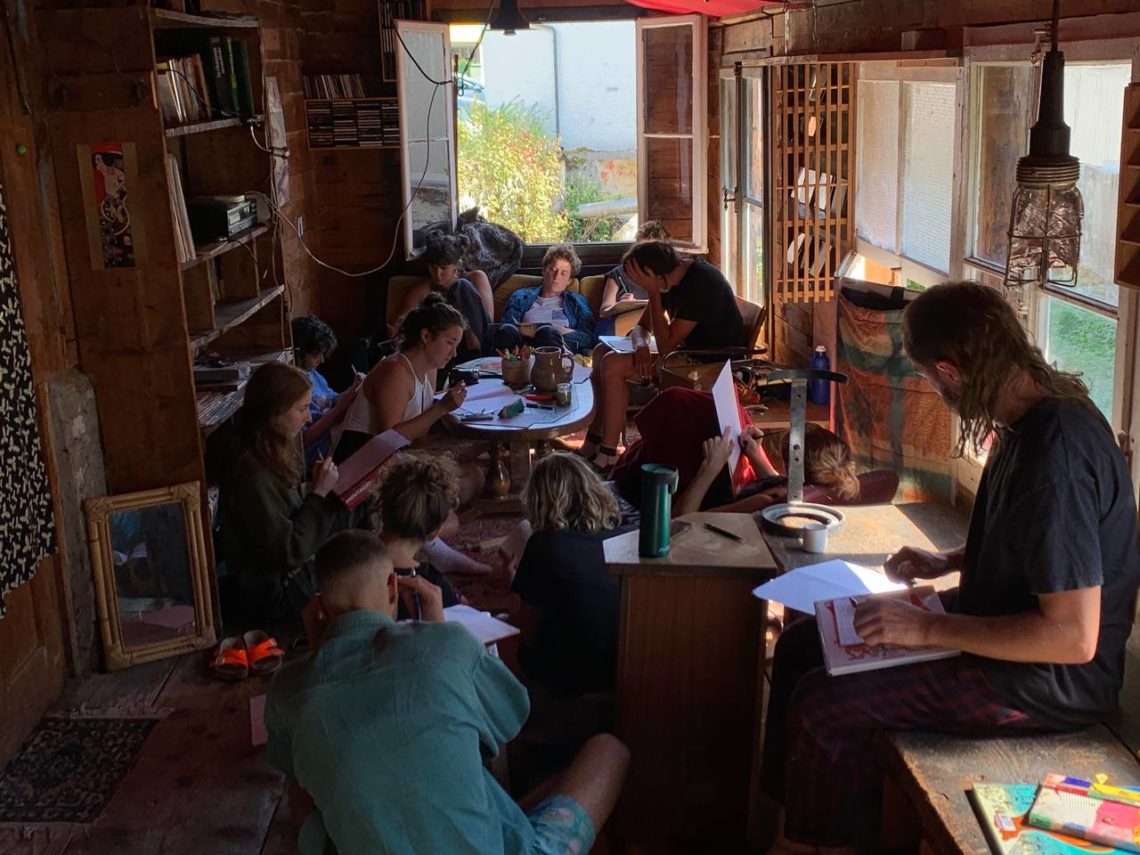 JamJamChicasx Experimental Camp
JamJamChicasx organised a first week-long collective residency camp at the Matrix House. In this first edition, more than 20 people between 20 and 60 years old met at the end of summer 2022 to exchange and experiment both socially and creatively. This gathering was the occasion to focus on creativity, but also to address, discuss and experiment around subjects such as gender, diversity, inclusiveness and accessibility. One of the intentions for this camp was to offer the space primarily to women, trans and non-binary people. The residency camps organised at the Maison-Matrice are however open to all.
On the riverside of the Matrix House, many workshops took place, given by speakers and participants alike : creative writing, singing, dancing, musical improvisation, round table discussions and film screenings. After this first edition at the Maison-Matrice, the collective plans to repeat the experience once or twice a year and next edition should take place in August 2023.
The week ended magnificently with the Maison-Matrice Festival, organized in collaboration with Jamjamchicasx and the Maison-Matrice : a festive afternoon, animated by a free market, a pot luck meal, and an "open stage" that lasted until nightfall with concerts offered by dianita and OSMOSE TV.
More about JamJamchicasx
JamJamChicasx, an association based in Vevey, proposes during the year monthly experimental jams in various places in Switzerland (here is their soundcloud page: https://soundcloud.com/jamjamchicasx). The main mission of JamJamChicasx is to encourage the musical creativity. Through various events, JamJamChicasx wishes to create a jugement-free space. To allow these kind and safe spaces, questions and experiments around gender and inclusivity are addressed. However, helping people to break free from limitating schemes and build trust to create freely is the main purpose of JamJamChicasx. In that prospective, no one should be excluded from those spaces, and everyone is welcome to join and try to meet with their own creativity, out of any performative goal. Those meetings are animated with simplicity and spontaneity, while chaos and dissonance are allowed, which brings a lot of surprises.